Tencent Mobile Keeper
Tencent mobile phone housekeeper is a completely free mobile phone security and management software to "mobile security management pioneer" for the mission to provide physical examination to speed up, health optimization, security, software management and other intelligent mobile management features, more " Login QQ "," secret shot "," small rocket release memory "and other characteristics of experience, so that your phone safe and worry-free! Tencent mobile phone housekeeper is not only a security expert, but also your intimate butler.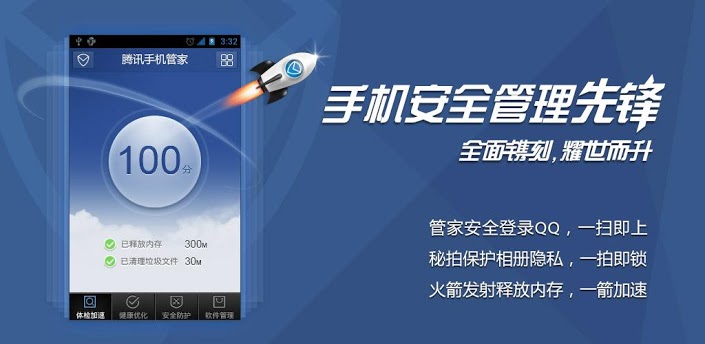 More features
Set a key anti-virus, physical examination to speed up, system optimization, power saving provinces, anti-spam SMS harassment in one, a key Brush essential, 360-degree comprehensive protection of mobile phone security.
– physical examination optimization: a key physical examination, all-round grasp the status of mobile phones, intimate optimization master, 360 ° optimized Andrews system
– mobile phone acceleration: a key to release the system memory, clean up the system garbage
– battery maintenance: intelligent power, greatly saving power for the phone
– traffic monitoring: intimate traffic management guards, to prevent the loss of traffic intimate assistant
– privacy protection: intimate protection of call records, SMS and other privacy and security, comprehensive protection of mobile QQ, WeChat applications such as privacy and security.